Whimsical metal wind spinner
Handcrafted from reclaimed metal
Sturdy stakes ensure secure installation in your garden
Bicycling Frogs Metal Wind Spinner
A pair of anachronistic amphibians are the stars of this handcrafted metal kinetic garden art.
The spokes of his enormous front wheel will spin in the breeze and cause his legs to move up and down in a peddling motion.
A delightfully fanciful garden decoration with a unique spin when the wind blows.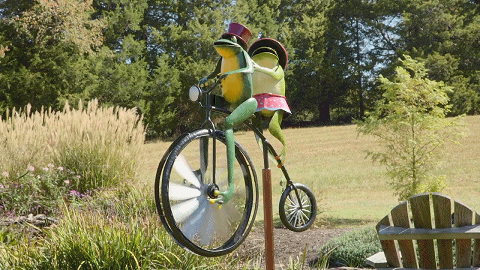 mantis Metal Wind Spinner
A pair of mantis on a vintage bicycle
Spokes of the oversized front wheel turn in the breeze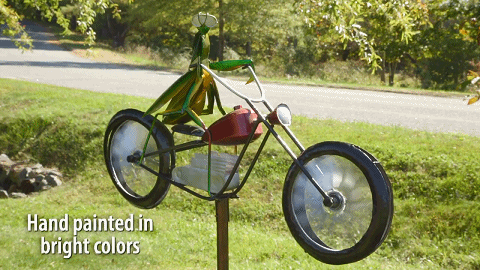 Cat & Rat Metal Wind Spinner
A pair of Cat & Rat on a vintage bicycle
Spokes of the oversized front wheel turn in the breeze